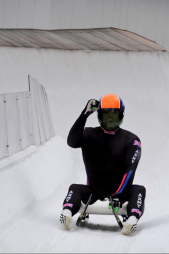 Name: Henry 'Harry' Foulkes
Date of Birth: January 25th 1990
Place of Birth: Royal Tunbridge Wells, England
Nationality:British
Height: 183.2 cm
Weight:101KG
Sports:Luge
Rating: Great Britain
Luge
Position: Pilot
Discipline: Singles Luge.
Luge
Henry started his luge career in the British Army representing his regiment the Queens Royal Lancers in 2008, competing within the UK for 3 years before attending his first International Luge Training camp. After this first camp he raced in his first nations cup race on the world circuit in Austria and obtained seasonal sponsorship from Sodexo Finishing the race he was bitten by the Team GB bug. After attending the 2012 ambition program during the London Olympic games he set his sights on the 2014 Olympic games in Sochi, Russia and the 2018 Olympic games in Pyung Chan, South Korea. He is a talented young slider with many tracks under his belt and looking forward to full luge career within the national squad.
Training
Henry is currently in full time summer training at bath University within the Team Bath family. Starting only this summer his program has been written by Alex Chapman one of the leading Strength and Conditioning coach at Team Bath. During Henrys next season he will be training with the FIL (Federation of international Luge) small nations team.
Race History
Henry has competed in two nations cup races, British championships, Inter-service championships and army championships. Looking forward to competing in many more
Other activities
Henry has always been into extreme sports, Skiing, Horse riding, Cycling and any form of motor sports.