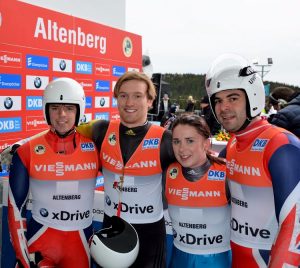 That's a wrap … the 2016 / 2017 International sliding season is complete.
The GB Luge team had 6 athletes on the circuit; Rupert Staudinger, Mark McQuitty, Lucas Gebauer-Barrett, Danielle Scott, Adam Rosen and Raymond Thompson. 5 out of 9 World Cup races were participated in, along with the World Championships in Igls, Austria.
Overall World Cup standings are as follows:
Men's singles
Rupert Staudinger 51st
Mark McQuitty 61st
Lucas Gebauer-Barrett 61st (seniors) 20th (junior)
Ladies
Danielle Scott 40th
Doubles
Adam Rosen / Raymond Thompson 27th
Team Relay 13th
One more race of the season to go, which is the British Championships, to be held on 9 March 17 in Lillehammer, Norway … I'll keep you posted with the results.